Avenida Mariategui, Ancon, Lima,
Peru Tel: (51) 1 524 52 44

Hostal Cerna
Ancon Lima Peru
home chacas main Capitanes Chacas 2011
(More) Chacas, Asuncion, Ancash, Peru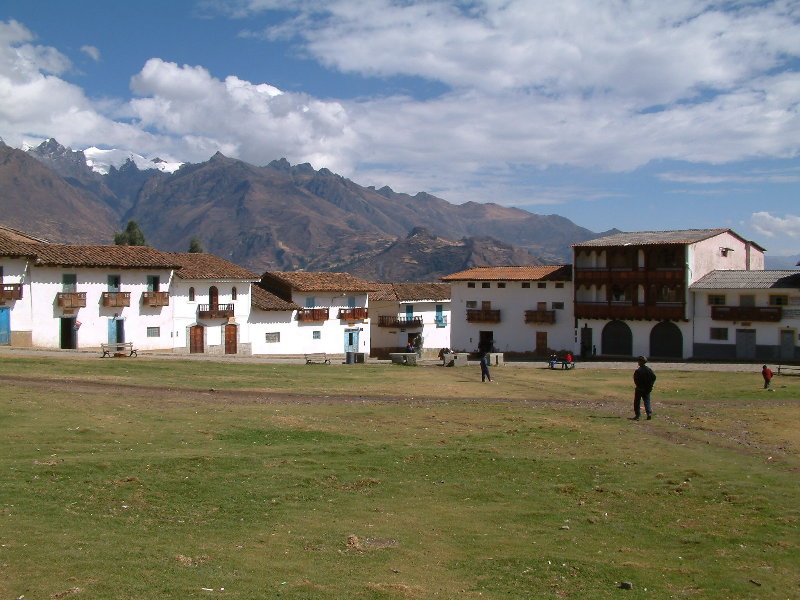 Plaza de Armas, Chacas, Peru, looking from in front of the Church
General Facts On Chacas, Peru
| | | | |
| --- | --- | --- | --- |
| District Capital: | Chacas | Elevation: | 3359m |
| District: | Chacas | Area of district: | 447 sq. km |
| Province: | Asuncion | Population: | 6000 |
| Department: | Ancash | | |
| Country: | Peru | | |
| Mayor: (2011) | Ronald Broncano Cadillo | | |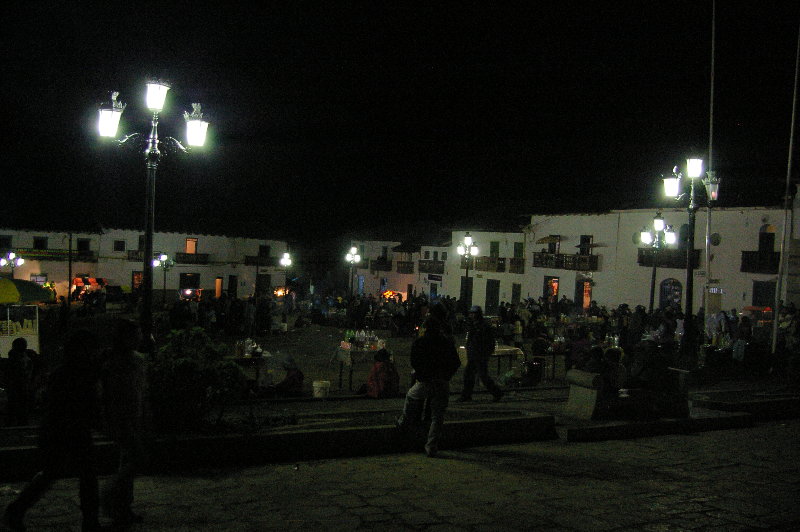 Chacas by night (Fiesta time)
Chacas
Chacas, in the Department of Ancash, Peru, is best reached via Huaraz. Huaraz is the capital town of Ancash. Frequent buses of all levels of comfort leave the north of Lima, taking around 6 hours to reach Huaraz. Travel by luxury bus will cost around $20. It is possible to do the journey in one day, however, the trip is much more relaxed if you overnight in Huaraz. The journey on from Huaraz to Chacas will cost around $10, taking something like 4 hours. Journeys can be considerably longer due to problems on the road or breakdowns of the bus. Understandably, the journey to Huaraz is less subject to problems, especially if you opt for one of the better services. UPDATE October 2011 - There are direct buses from Lima - not so luxurious but of course quicker, for about $20. When the new fully asphalted road is finished (due 2013), travel time from Huaraz should be under 2 hours.
Former Mayor of Chacas - Eugenio Prospero Brito Castro (2007)

If your intention is to travel from Lima to Huaraz, then on to Chacas, Hostal Cerna, Ancon, is a good location to stay. Many of the buses for Huaraz stop, or can be hailed, at the interchange two minutes walk from the hotel. Cross the road from Hostal Cerna, walk up the hill and turn left. The main road is just in front of you.

Please note some of the upmarket luxuy buses will not stop other than at their terminals to collect passengers. For these, you will need to make a fairly short taxi ride into Lima. Ask Antonia or Yanina at Hostal Cerna for advice.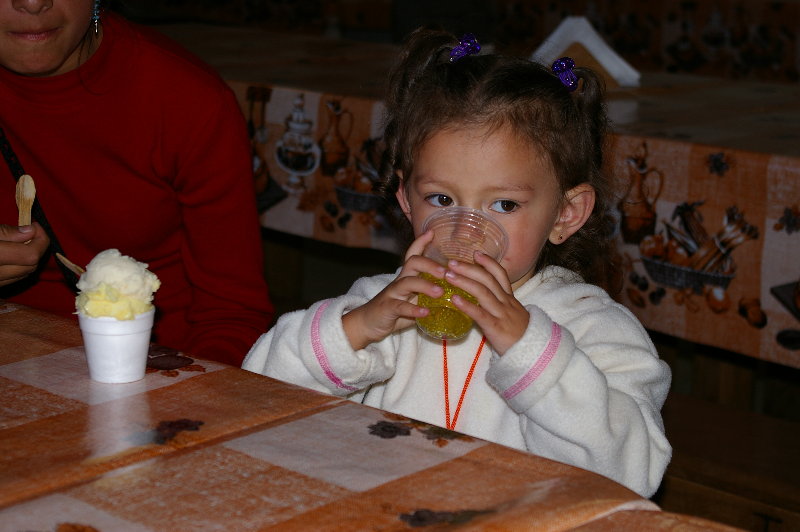 Helena eating Ice Cream and drinking Inca Cola, Church of Asuncion Cooperative Restaurant, 2007
Fiesta
One of the principle reasons to visit Chacas is for the annual Fiesta. This is famous throughout Peru, and increasingly abroad. The timetable is the same each year, regardless of the fall of the days of the week. The Fiesta starts on the 14th of August with a day of fireworks. It then runs for one week, with various events and celebrations each day. The bullfighting takes place in the Plaza de Armas on the 17th and 18th. Although I include some of my pictures here for you to see, I do not include any of this as I am not comfortable with this cruelty to animals. Peruvians proudly proclaim that the bulls are not killed, though I still suspect given the choice they would prefer not to partake (the bulls that is, not the Peruvians). Although the bulls rarely die, it is not unusual for one of the villagers to be killed. When I was last there, in 2007, one of my wife's brother-in-laws had his arm badly broken, and was lucky to escape alive. Unfortunately, he was more drunk than the bull (one year whilst I was there, one of the bulls drank from a bucket of Chicha, which made it even more short tempered). Whilst I would not partake or spectate myself, I would not judge locals or visitors by my own beliefs, so if you wish to visit, it makes an interesting spectacle.
Not surprisingly, the population of Chacas swells considerably with visitors at Fiesta time. Travel immediately before, during or after Fiesta week is well booked. As are the hotels. Visitors would be best to book in advance at the best hotel, Hostal Pilar, well in advance. Book your bus seat well in advance. Having a ticket in Peru does not guarantee you a seat, as seats are frequently sold twice. The booking office will sell a seat for the whole journey, while the driver will sell the same seat for perhaps one leg of the journey. Whoever arrives second will then end up standing for part of or all of an already grueling journey. So get your ticket well in advance, then turn up early on the day. If you're joining part way through the journey, you'll just have to hope you're lucky. For well off tourists (and even backpackers are relatively well off by Peruvian standards), it is possible to hire a four wheel drive and driver from Huaraz.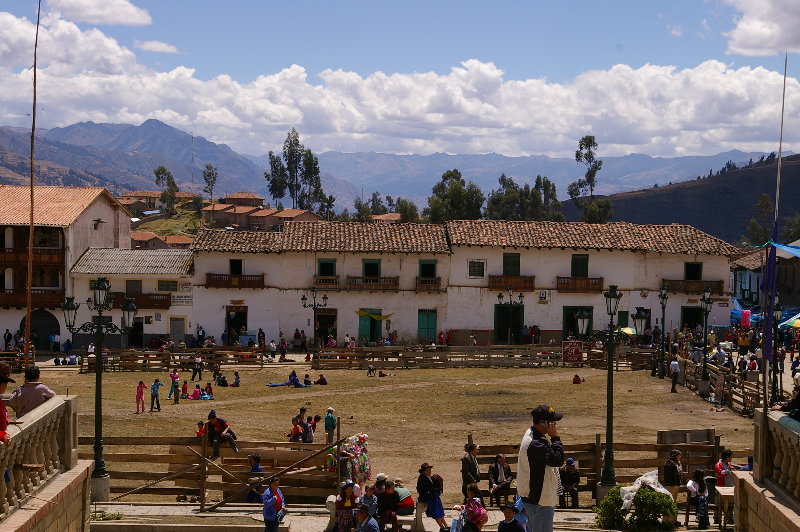 Chacas Plaza de Armas set up as the bullring, from Church steps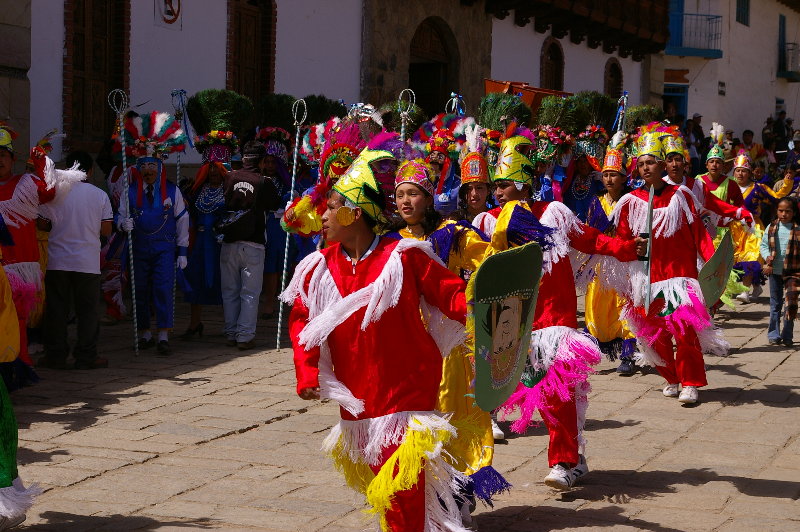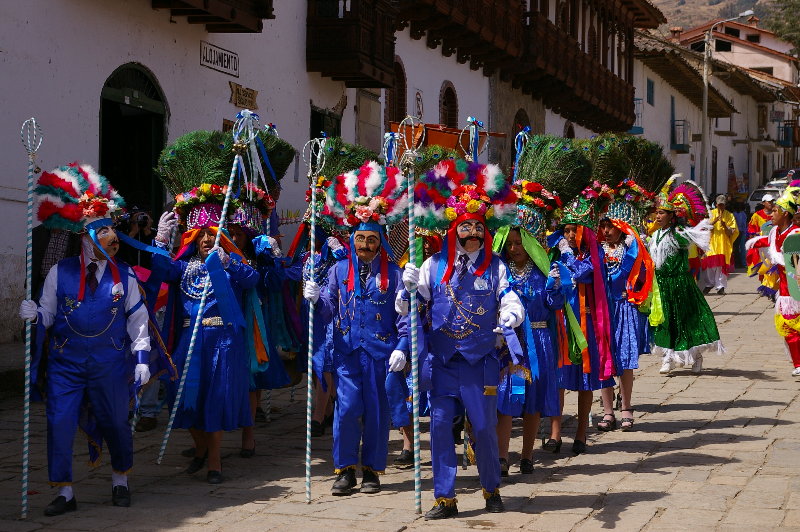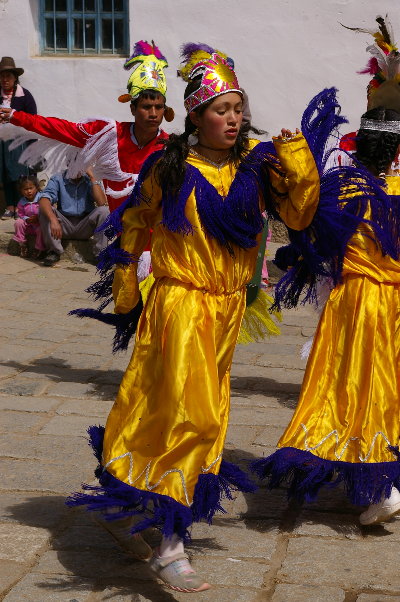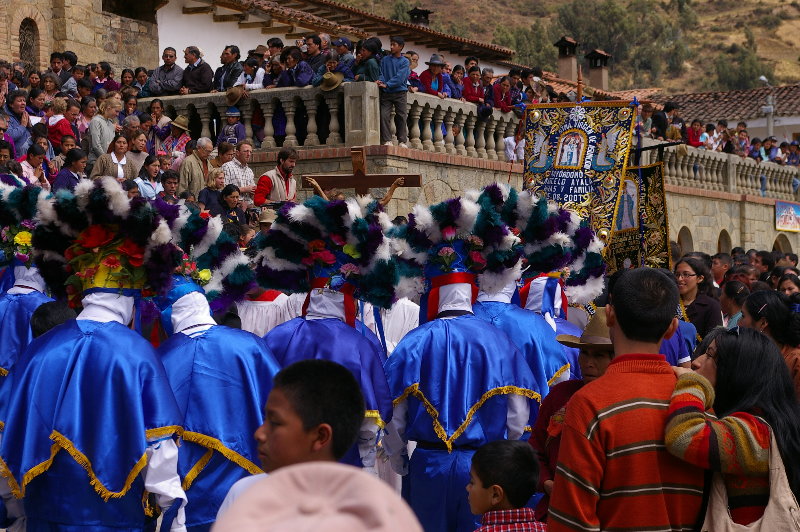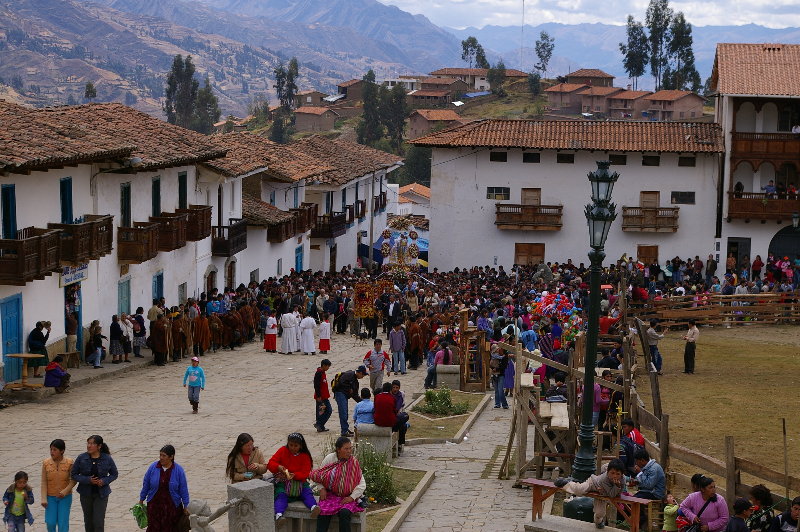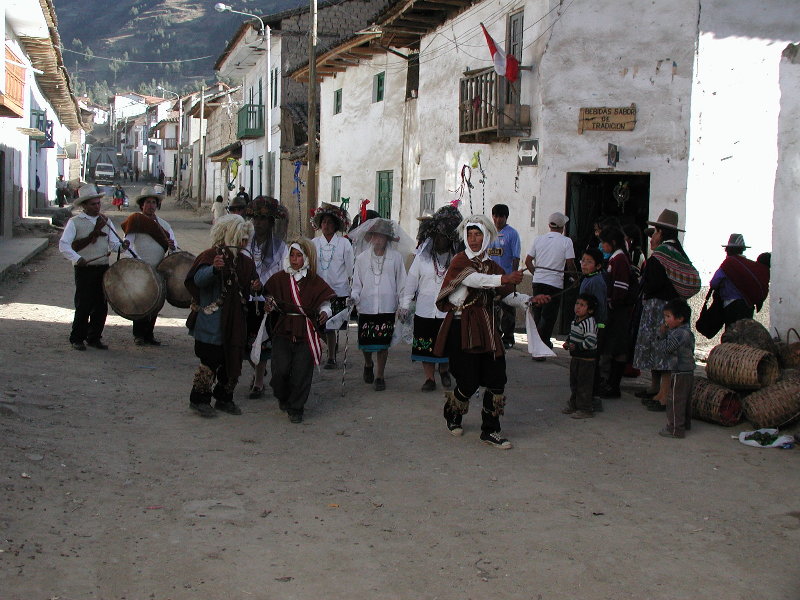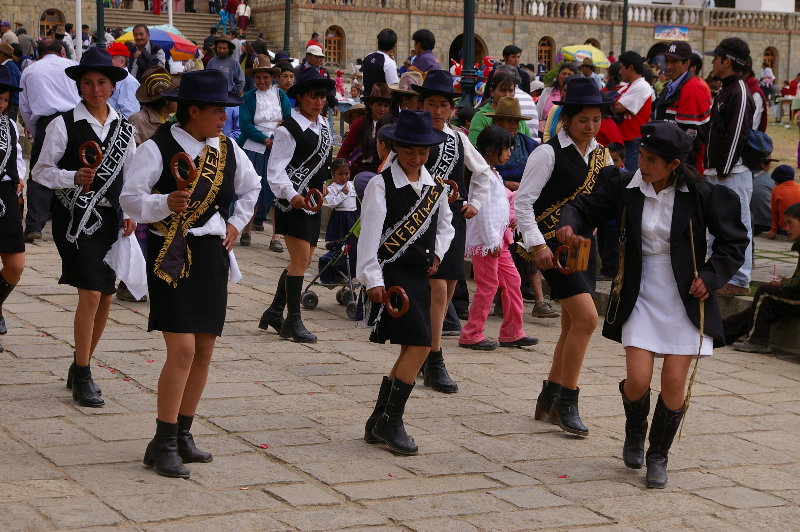 Las Negritas de Chacas
Landscape and Scenery
Another good reason to visit Chacas is to walk in the beautiful countryside. At over 3000m, those not in the peak of fitness (i.e. me) can still take relatively short walks in the immediate vicinity. Take things easy, especially whilst climbing, and make sure you carry drink. The thin air causes you to breathe more rapidly, through your mouth, which leads to you become thirsty quickly. Take plenty of rests.
Typical view from a Chacas Window

The sun is surprisingly strong at this high altitude. If out for any length of time you are likely to sunburn, hence it is wise to bring suntan lotion, which you are unlikely to find in the shops in Chacas.

There are a lot of mosquitoes in outlying villages just below Chacas, such as Acochaca. Be warned you are likely to get a lot of insect bites. This does not seem to be a problem in Chacas and above, as the altitude is too high for Mosquitoes. The area is malaria free, as is most of Peru except at certain points on the borders with Colombia and Bolivia. Please take this as general opinion, and check the current situation, which can change, before leaving your country.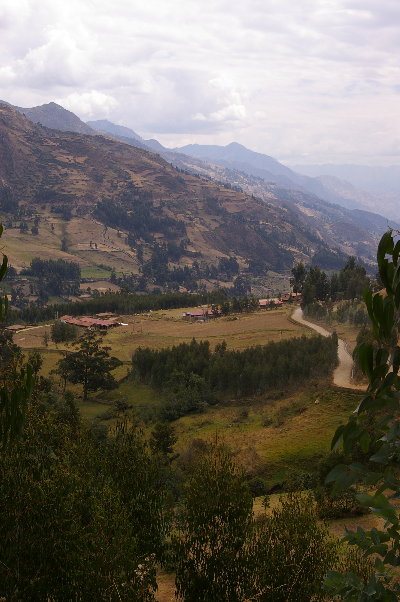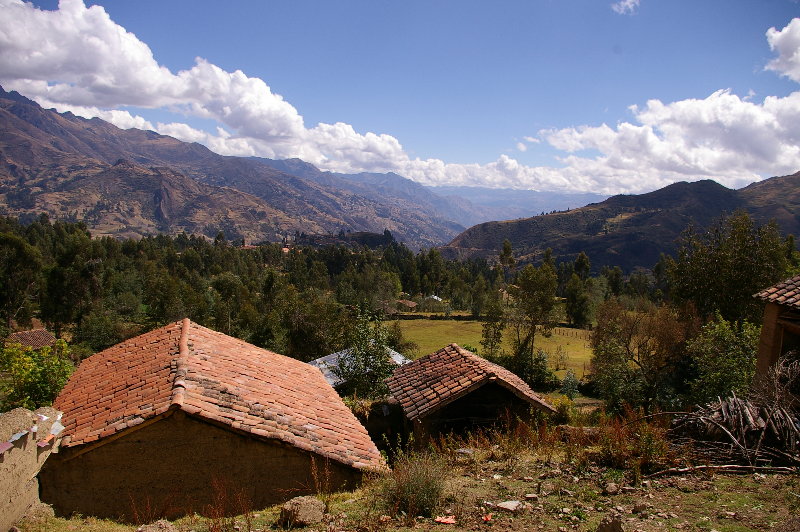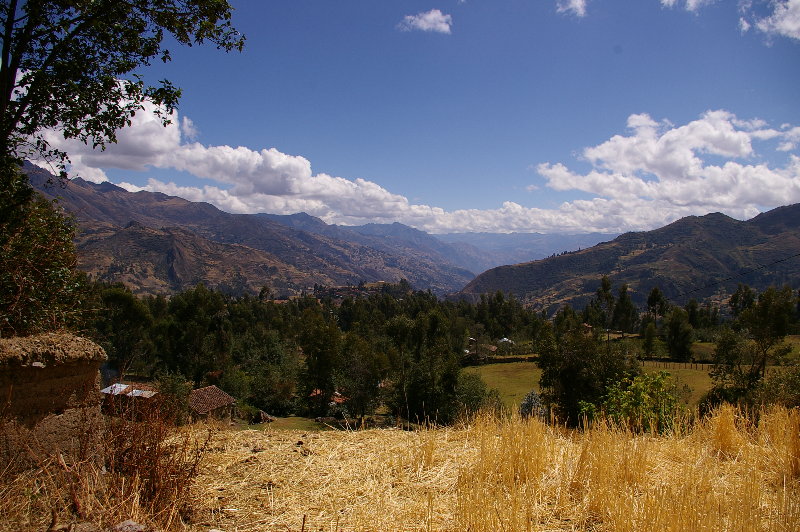 Church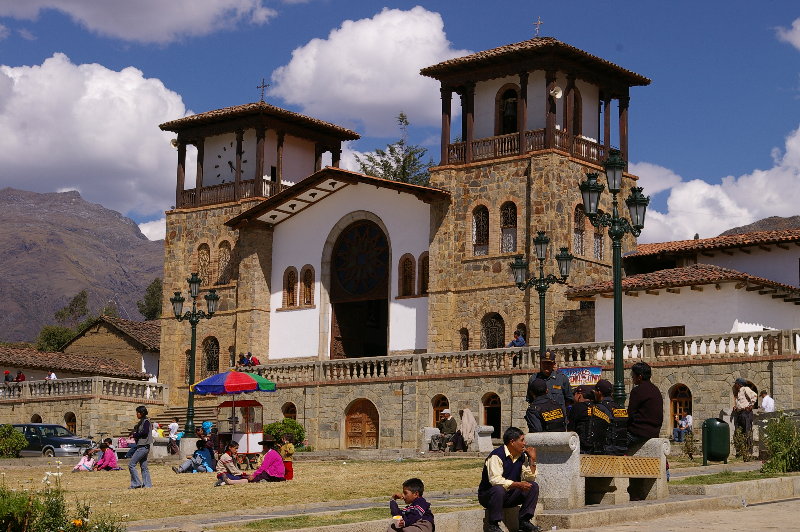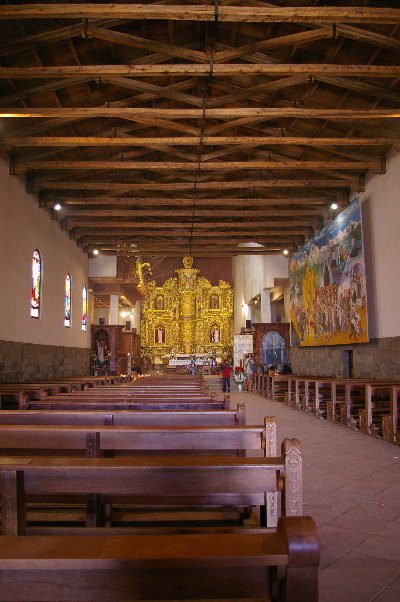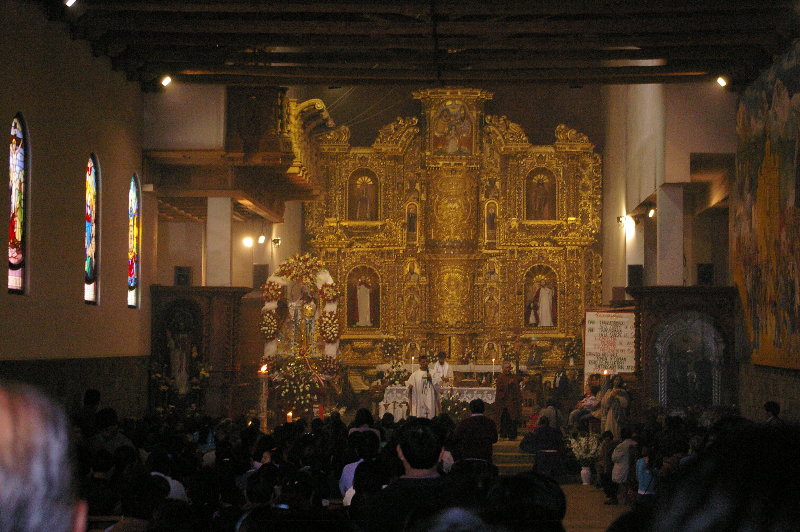 Hospital
The beautiful stone built hospital of Chacas is large relative to the size of the town. Facilities are modern, though obviously limited. The existence of this hospital, in common with much else in Chacas, is thanks to the fund raising of Padre Hugo's nephews in Italy, and his total dedication to his home of over thirty years. He constantly strives to provide more facilities for the hospital.
As the best hospital for some considerable distance, people journey for up to a day to reach it.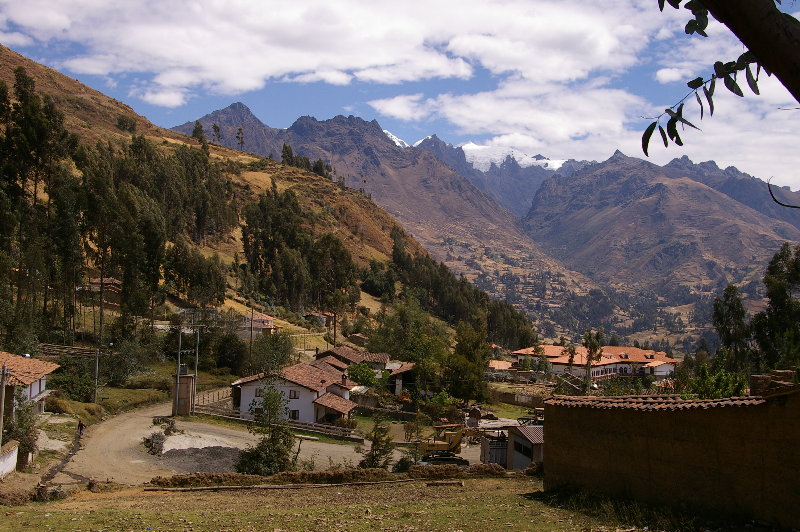 Chacas Hospital amongst Chacas scenery

©Peter Smith 2008 - 11